In many countries worldwide, the topic of energy transition seems to be highly charged. The array of problems connected to this process embraces a clash of worldviews, controversies over the efficiency of existing technologies, the legitimacy and quality of planned and implemented policies, disputes over the "right" energy mix as well as other complex economic and social issues. Yet, the transition will inevitably have to be introduced soon, and both the process and the time framework of the change are the key to success. To add to this heated discussion and to suggest a way forward, the Centre for Systems Solutions, in collaboration with Wuppertal Institute and Thema1, has developed the Energy Transition Game.
The reality of simulation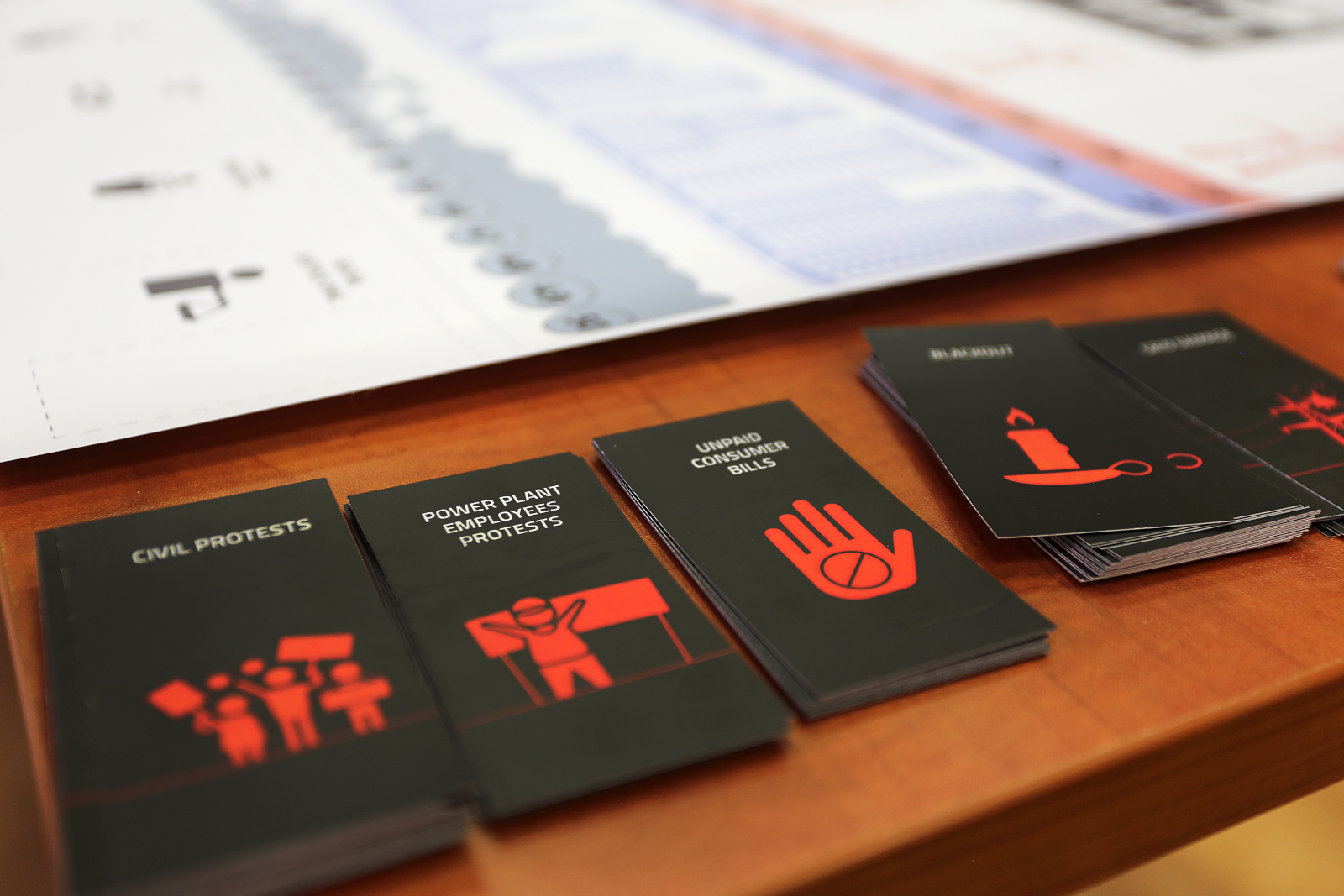 The activity can be described as social simulation, as participants assume roles of different stakeholders, becoming departments of the government, energy producers, technology start-ups, energy providers as well as representatives of NGOs. They do not only have to deal with the technical complexity of the transition but also navigate through social, environmental issues and explore complicated relations between each other's conflicting ideas and agendas. For example, it often happens in the game that people acting on behalf of energy producers try to maximize their profits at the expense of the environment. Such attitude usually meets with severe public censure from the citizens and NGOs' representatives, who demand such practices being financially sanctioned and more sustainable technologies being introduced. However, innovations proposed by technology start-ups are often counter-effective, as they still depend on outdated infrastructure, which has to be modernized by the underfinanced government. Players acting as governmental officials often try to save the situation by introducing new policies that may not arouse public enthusiasm. And the vicious circle of misunderstanding continues.
Looking for solutions
The Energy Transition Game is a great testing ground when it comes to dealing with complicated issues involving multiple stakeholders whose decisions can have a profound effect on the socio-economic environment. The activity mirrors most important features of real world system and highlights the need of collaboration and communication. It also emphasizes that, in many cases, decision makers have to evaluate the trade-offs, as there are no simple solutions that will accomodate economy, ecology and social welfare. Faced with such dilemmas, the participants may try out different strategies, and almost immediately experience their consequences either through the games' mechanics or through other participants' feedback. Unlike in real life, however, testing takes places in a safe, controlled environment, and any fatal repercussions stay within in-game reality. In this context, it can be used to chart best development pathways and anticipate different real-life scenarios. For this purpose, the Energy Transition Game has been used at multiple workshops organized, among others, with Estonian Ministry of Environment, German Environment Ministry, Wuppertal Institute, Climate-KIC, Systems Innovation Lab.
Real experience from simulated realities
Although the simulation was designed to depict the problem of energy transition, it can be used in other contexts that require taking into consideration both the social and technical aspects of the complex systems as well as the need for creating multilateral agreements and coordination of actions between various stakeholders. This Energy Transition Game encourages 'out-of-the-box' thinking as well as negotiation and mediation skills. By and large, it is a great tool to display problems and dilemmas emerging from complex, coupled systems that encompass environmental, social, economic and technical elements and interactions between them. Taking into account its general applicability, we decided to submit the Energy Transition Game for the Best Climate Solutions 2018 Award.
Can a game become the Best Climate Solution?
Through an annual open call, Best Climate Solutions invites and selects innovative projects and actionable ideas from across the world that provide solutions to targeted climate change challenges. In the previous years, the call has gathered over 180 projects from Europe, Asia, Africa, America, and Oceania, and a community of over 14000 users.
This year's edition is the fifth in the history of the competition. It is focused on the challenge of "Communicating Climate Change Threats and Opportunities", and it is organized by the Euro-Mediterranean Center on Climate Change in partnership with the Festival for the Earth. It collects innovative ideas, methods and tools to communicate climate change in education, advocacy, media production and social engagement activities.
The Energy Transition Game has been successfully accepted in the first round of the proposal assessment and is now being published on the Best Climate Solutions platform at www.bestclimatesolutions.eu/solution/energy-transition-game/.
Staring from September 24, all registered users can vote for Energy Transition Game and increase its chance of winning. The online voting procedure finishes on October 15, 2018 (5.00 pm CEST).
If you want to assist the world in the transition process, Sign up or log in to the Best Climate Solutions website and vote for the Energy Transition Game!
---
How did you like this post? Let us know in the comment section or on our social media!
You can also fill this short survey to help us create better content for you!
For more games about energy transition, renewable energy soutions, climate change and SDGs visit our Blog and Gamepedia!