Water Bears is a new game developed by Schell Games. With easy and interesting mechanics, the game can readily become a tool for systems thinking education. Let us see exactly how.
Water Bears is a simple puzzle-based game.
Jesse Schall, CEO of Schell Games, said that:
In the game, water bears are animals about a millimeter long that live in moss all over the world. They can survive most environments by expelling water from their bodies. Once they are re-hydrated, they come back to life. To play, users touch and drag pieces of pipe together directing water over the bear to hydrate it.
The game enjoyably forces players to think out of the box and find quick solutions to presented problems.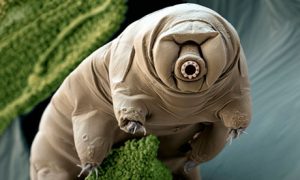 According to Schell, one of the main goals of the game is to show the audience their achivements "in the realm of systems thinking".
Since, Water Bears incorporates elements of systems thinking, it is a great tool to learn about systems approach, especially for children. The game helps to see wider and think ahead which becomes 'serious' advantage for a serious game. Teachers can also effortlessly include game into their curriculum to further engage children and make them reflect on the everyday problems and how to work around them.
In turn, system thinking can help approach modern day's challenges such as climate change or disaster management.
Water Bears is a good step in making games a tool for education, and school use.